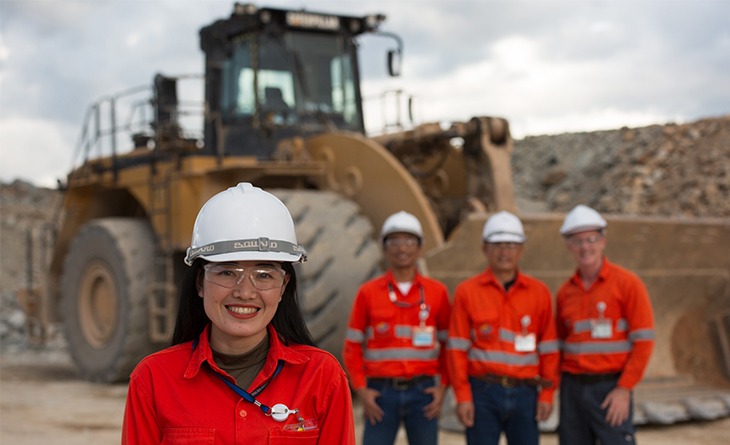 New PanAust Group organisational structure supports strategic direction
Last week, PanAust Managing Director and Chief Executive Officer, Daling Zheng shared the Group's new organisational structure supported by its shareholder, Guangdong Rising H.K. (Holding) Limited and the PanAust Board.
Designed to eliminate reporting complexity, the streamlined structure supports the Group's strategy with a reinvigorated short-term focus in Laos beyond 2025.
Achieving our Vision: a responsible and sustainable business
To successfully achieve its Vision, to remain a relevant and competitive in Laos and beyond, PanAust has reset targets to be safer, more efficient and cost-effective in its business activities.
PanAust is committed to operating a sustainable business that benefits its people, communities and shareholders. A simplified strategy and the new structure support this sustainable business objective.
Aligned with the life of mine extensions of its Phu Kham Copper-Gold Operation and Ban Houayxai Gold-Silver Operation, PanAust's short-term strategic focus is in Laos.
The immediate objective is to continue to vigorously pursue its current pipeline of projects in Laos. PanAust's newly established Lao-registered subsidiary, Saisana Lao Resources will also support this short-term objective.
The Group's interests in other countries will continue as it navigates the respective in-country requirements. While milestone activities continue, especially in the case of Frieda River, the Project remains a long-term objective for its shareholder along with prospects that may present beyond 2025.
A new leadership team with multiple portfolio oversight, will together support the PanAust Group's short and long-term strategy and provide safe operational day-to-day direction for its people and enable the realisation of Company objectives.