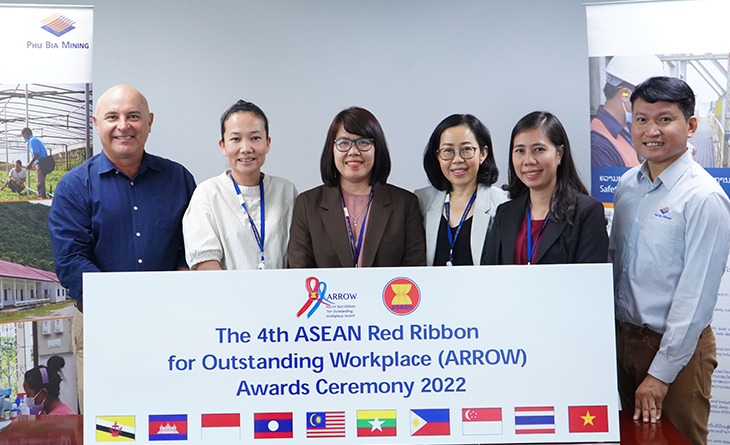 PanAust's Lao-registered company's HIV and AIDS program recognised at ARROW Awards
PanAust's Lao-registered company, Phu Bia Mining's outstanding HIV and AIDS program was recognised at the 4th ASEAN Red Ribbon for Outstanding Workplace (ARROW) Awards., held in Singapore on 12 to 13 October 2022.
The 2022 Association of South East Asian Nations (ASEAN) Red Ribbon for Outstanding Workplace Award (ARROW) recognises companies in the region implementing HIV and AIDS awareness and prevention programs that keep people safe.
The Government of Laos' 2022 ARROW Awards panel nominated Phu Bia Mining, in recognition of its good practice HIV and AIDS initiatives. These initiatives target its employees, contractors and local communities in Xaisomboun Province. Commencing in 2016, this is the first time for Laos to participate in the bi-annual awards.
Company initiatives focus on increasing knowledge and awareness of sexually transmitted infection (STI) and HIV prevention, treatment, and care, combat stigma and discrimination and mobilise public debate and provide medical support to those living with HIV.
The Award acknowledges the Company's efforts that align with the Government of Laos and health authorities' approach to preventing the spread of HIV and AIDS across its operating sites and local communities.
PanAust thanks and congratulates employees, recognised by this Award, who have contributed to initiatives that protect its people and communities.
Pictured: (L-R): Phu Bia Mining Managing Director, Steve Gimpel with (third from left) Chief Medical Officer, Dr Bounhome Phouvong and Company representatives at the 2022 ARROW Awards.