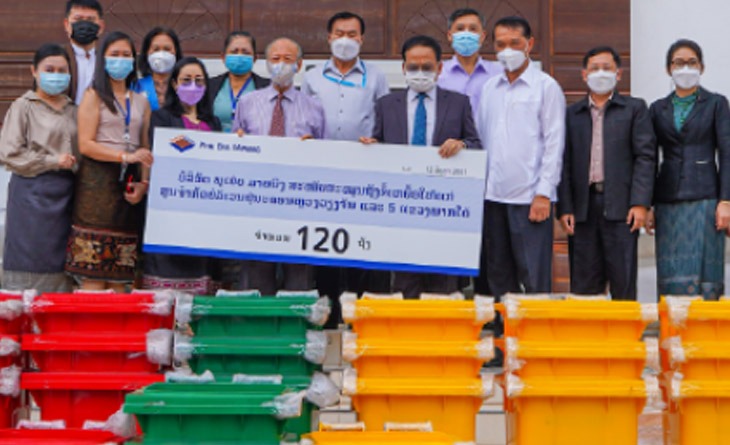 Company provides COVID-19 waste disposal bins to the Government of Laos
On 12 August, PanAust's Lao-registered Company, Phu Bia Mining (PBM) Chairman, Mr Chanpheng Bounnaphol presented 120 waste disposal bins to the Vice Minister of Health, Dr Sanong Thongsana at a handover ceremony at the Ministry of Health in Vientiane.
The waste disposal bins – which meet the guidance of the World Health Organization for hygiene in disposing COVID-19 waste – will be sent to Government facilities that are quarantining and treating COVID-19 patients in Bolikhamxay, Champassak, Khammouan, Salavan, Savannakhet and Vientiane Capital.
Since the onset of COVID-19, Phu Bia Mining has continued to look at ways it can support the Government of Laos' efforts to fight the pandemic. Providing this essential waste disposal equipment is another example of how the Company is partnering with the Government of Laos to prevent the spread of the COVID-19 in country.
PBM Chairman, Mr Chanpheng Bounnaphol spoke of the Company's ongoing commitment to protect the health of people in Laos.
"The Company continues to provide support to the Government of Laos during the COVID-19 pandemic. The health and safety of Laos' frontline medical workers is also of paramount importance.
"The provision of these additional waste disposal bins means that waste generated during diagnosis and treatment of COVID-19 patients will be handled, disposed of, and transported to disposal sites safely so as to minimise the risk of exposure to patients and/or medical staff," Mr Bounnaphol said.