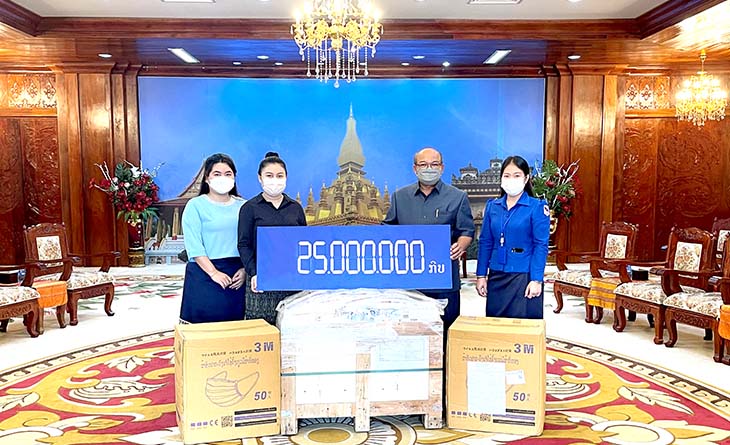 Company supports Government of Laos' fight against COVID-19
On 27 September, PanAust's Lao-registered Company, Phu Bia Mining presented medical supplies to the Vice Governor of Vientiane Capital and the Head of Vientiane Capital Taskforce Committee for COVID-19 Prevention, Control and Response, Mr Phouvong Vongkhamxao. The ceremony was held at the Cabinet Office in Vientiane.
The medical supplies included 100 full body personal protective suits, 500 bottles of 70 per cent alcohol liquid disinfect, 100 boxes of medical face masks and 100 bottles of hand sanitiser. The supplies will be distributed to medical facilities that are caring for people who have contracted COVID-19 in Vientiane Capital.
Since the onset of the COVID-19 pandemic in 2020, Phu Bia Mining has worked closely with Central and Provincial Taskforce Committees for COVID-19 Prevention, Control and Response on ways it can support the Government's fight against COVID-19.
Phu Bia Mining Chairman, Mr Chanpheng Bounnaphol spoke about this recent assistance from the Company and the importance of protecting the country's frontline healthcare workers.
"As different Provinces across the country work together to prevent and control the spread of the current wave of COVID-19 infections in Laos, Phu Bia Mining will continue to support the Government of Laos' efforts across all levels to provide assistance that will help safeguard the health and safety of Laos' frontline healthcare providers.
"These medical supplies and PPE will provide a vital line of defence for those who are caring for the people across Vientiane Capital who have contracted COVID-19 and will ensure they can continue to do so. "Phu Bia Mining will continue to work closely with the Government of Laos to identify opportunities for assistance it can provide that will help stop the spread of COVID-19 in country," Mr Bounnaphol said.