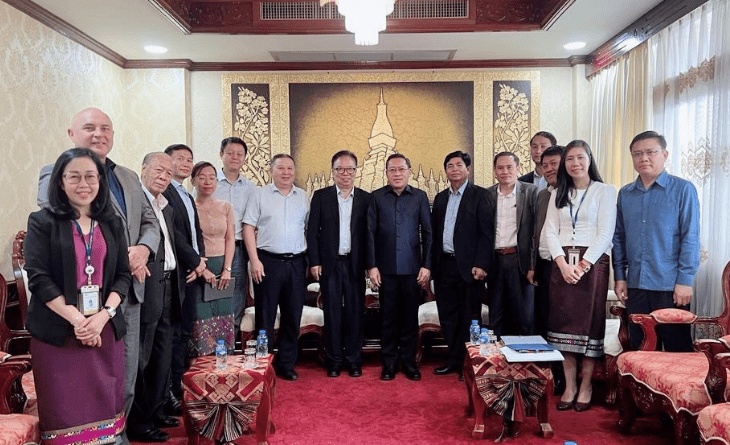 Chinese State-Owned Enterprises support Phu Bia Mining's growth in Laos
Phu Bia Mining (PBM) were honoured to host Mr Chen Shengguang, Member of Guangdong Provincial Committee of the Chinese People's Political Consultative Conference (CPPCC) and Director and General Manager of Guangdong Rising Holding Group Co., Ltd (GRHG), and Mr Shu Yao, the Chairman of Guangdong Rising H.K. (Holding) Limited (GRHK), who led a delegation from GRHG and GHRK on their inaugural visit to Laos.
Phu Bia Mining's Australian-headquartered parent company, PanAust is owned by GRHK which is a wholly owned subsidiary of GRHG. GRHG is a Chinese state-owned company regulated under the State-owned Assets Supervision and Administration Commission, the People's Government of Guangdong Province in China.
The delegation met with the Minister of Energy and Mines, Mr Phoxay Xayasone, who extended a warm welcome to Mr Shengguang, who is also The Deputy Secretary of the People's Republic of China Party Committee, and Mr Yao. During the meeting with the Minister, Mr Shengguang discussed the special relationship between the Government of the People's Republic of China, the Government of Laos and GRHG investment goals in the country.
The Minister of Energy and Mines made a number of positive comments, noting Phu Bia Mining's very high standards in all areas of its Operations, as well as the also making numerous financial and socio-economic contributions to the Government of Laos and the Lao people.
PanAust Managing Director and Chief Executive Officer, Mr Daling Zheng, spoke about the importance of the visit by the high-level delegation from Chinese State-Owned Enterprises. Mr Zheng said, "This was the delegation's first time to Laos and to see our Phu Bia Mining Operations. GRHG and GRHK have a strong commitment to further invest in the country. We continue to ensure that our ongoing investment makes direct financial returns to the Government of Laos and socio-economic benefits for the Lao people."
PBM Chairman, Mr Chanpheng Bounnaphol, added: "GRHG and GRHK are pleased to see Phu Bia Mining's continuing strong investment in Laos with direct financial contributions of US$968 million to the Government of Laos. We have also paid US$2.48 billion to Lao and Lao-based international companies. We are proud that we employ more than 3,000 Lao nationals. With a positive investment outlook, the delegation foresees positive future opportunities for the mining industry here in Laos."