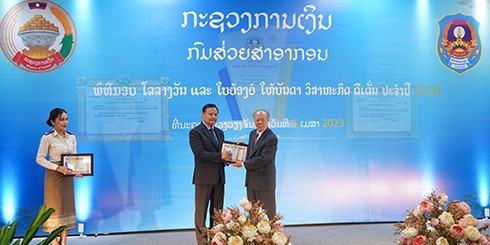 Phu Bia Mining recognised as the best taxpaying business in Laos
On 5 April, Phu Bia Mining (PBM) was awarded the 'Best taxpaying business' trophy and Certificate of Excellence for the fiscal year 2021 from the Lao Ministry of Finance. This is the second consecutive year PBM has been granted this award.
To meet the tax obligations in Laos, the Ministry of Finance letter grades companies with 'A' being the highest. Phu Bia Mining has received As for paying regular and on-time taxes, continuing to provide an annual review and sustainability report, passing Government audits with no outstanding debt balances, and having zero penalties for delaying tax obligations. 
Commencing operations in 2008, the Company's direct payments to the Government of Laos have reached over US$925 million made up of royalties, salary, road, profit taxes, dividends, and other concession and import services fees. The Phu Kham Copper-Gold Operations and the Ban Houayxai Gold-Silver Operations have achieved cumulative production of over 900,000 tonnes (t) of copper in concentrate, more than 1 million ounces (oz) of gold, and 12 million oz of silver. 
PanAust Managing Director and Chief Executive Officer Mr Daling Zheng spoke about PanAust's commitment to economic contributions to Laos, thanking the Government for recognising Phu Bia Mining as a responsible foreign investor that complies with the host country's tax obligations, and supports the local economy.