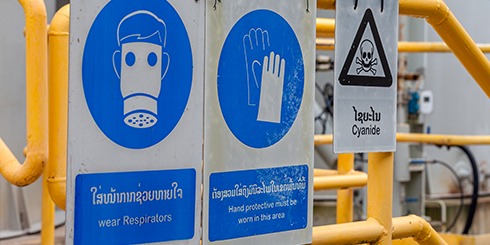 Phu Bia Mining certified in full compliance with the International Cyanide Management Code
Phu Bia Mining's (PBM) supply chain has been certified in full compliance under the International Cyanide Management Code (Cyanide Code) by the International Cyanide Management Institute (ICMI).
The audit was conducted by a professional independent third party and was accepted by ICMI on 23 March 2023. The auditor evaluated PBM's supply chain against the ICMI Transportation Verification Protocol and found it to be fully compliant with the Cyanide Code's Transport Principles and Standards of Practice.
The Cyanide Code is a voluntary program designed to assist the gold and silver mining industry enhance cyanide management practices. It is intended to increase the safety of workers who could be potentially exposed to cyanide, reduce environmental impacts of cyanide, and enhance response actions in the event of accidental exposure or release.
PBM must undertake another audit in three years to remain compliant with the Cyanide Code.
PanAust's Managing Director and Chief Executive Officer, Mr Daling Zhen congratulated Phu Bia Mining employees for achieving the certification, emphasising the importance of safe handling and transportation of the cyanide we use in our operations.
You can read more about the certification and the auditor report on the ICMI website.