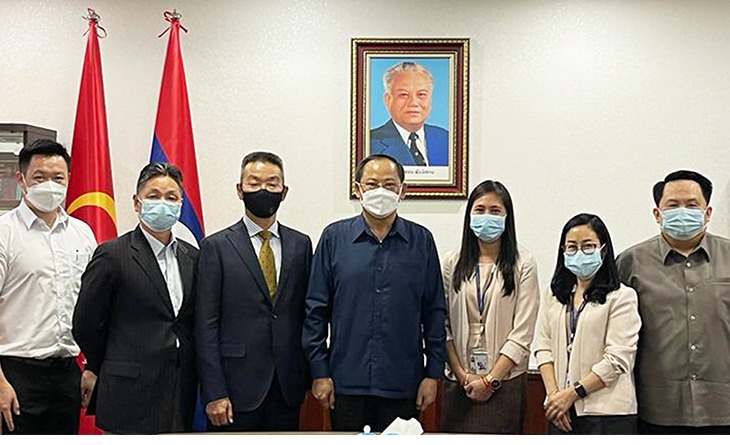 PanAust MD and CEO meets with the Government of Laos
PanAust MD and CEO, Dr Qun Yang, recently met with high ranking Government of Laos officials during a visit to Laos.
Dr Yang met with the Deputy Prime Minister and Minister of Planning and Investment, His Excellency Mr Sonexay Siphandone; the Deputy Prime Minister and Minister of National Defence, His Excellency Mr Chansamone Chanyalath; the Minister of Natural Resources and Environment, Her Excellency Madam Bounkham Vorachit; the Vice Minister of Energy and Mines, Mr Thongphat Inthavong; the Deputy Head of the Prime Minister's Office, Madam Thipphakone Chanthavongsa; Xaisomboun Governor, Mr Khamlieng Outthakaisone; and Xieng Khouang Governor, Mr Bounchanh Sivongphanh.
Phu Bia Mining's Managing Director, Mr Wen fu Wang accompanied Dr Yang at all meetings where he was able to express his gratitude to the Government of Laos for their ongoing support to PanAust and Phu Bia Mining.
This was Dr Yang's first meeting with Government of Laos officials since the onset of the COVID-19 pandemic. It afforded him the opportunity to speak about PanAust's commitment to remaining in Laos for the long term and to helping grow the Lao economy through development and growth opportunities.
Dr Yang also provided an update on PanAust' Lao Operations, environmental performance and its commitment to community development projects that are advancing socio-economic outcomes for Xaisomboun Province and potential future projects were also discussed.
In closing, Dr Yang extended his best wishes to the Government of Laos and expressed how PanAust will continue to assist the country during the ongoing COVID-19 pandemic.

Read the media release