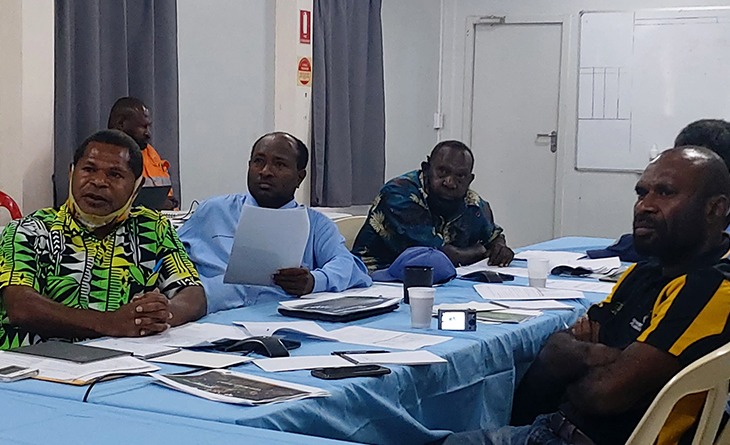 Frieda River Limited and West Sepik provincial representatives meet following COVID-19 imposed hiatus
On Wednesday 27 October, Frieda River Limited representatives met with senior sectional directors from the West Sepik provincial administration to discuss matters of mutual interest and the Company's commitment to developing the Project.
The meeting, the first held this year, was welcomed after an imposed hiatus due to ongoing COVID-19 pandemic travel and gathering restrictions. The five-member West Sepik delegation were transported to the Project site at Frieda River from Vanimo under strict Company COVID-19 controls including PCR testing. At site, the delegation virtually connected with the PanAust Frieda River Project team in Brisbane.

Initiated by PanAust, the meeting provided the provincial representatives with a platform to discuss their position and concerns regarding the Environment Impact Statement (EIS). The Conservation and Environment Protection Authority managed the public review process for the EIS which closed for public submissions in December 2020. The Frieda River Project footprint reaches across both East and West Sepik provinces.
The EIS recognises the importance of the Sepik River, both from an environmental perspective and the valuable contribution it makes to people's lives and livelihoods. PanAust has an internationally recognised and proven record in managing sustainable Operations in Laos.
Frieda River Limited Director, Phil McCormack spoke of the meeting being a positive restart of strong engagement aimed at gaining a better understanding of the Province's economic and environmental concerns.
"Frieda River Limited has been proactively engaging with all levels of Government in Papua New Guinea since 2014. We acknowledge that the engagment and ongoing dialogue with the provincial governments is critical and we remain committed to openly and transparently sharing with our partners," Phil explained.
Acting Director Department of Agriculture and Livestock, Joel Guaf from the West Sepik provincial administration shared similar sentiments.
"West Sepik provincial administration fully supports the Project. Our position is to understand and appreciate the differences in opinions that exist at this time and we will work together to advance the Project."
For the Company, supporting governments and communities through this process is important to ensure the realisation of our long term goal which is to make a lasting difference.
"Together we will work through the peer review findings and the economic, environmental, social and engineering considerations and their impacts on the Project," Phil said.