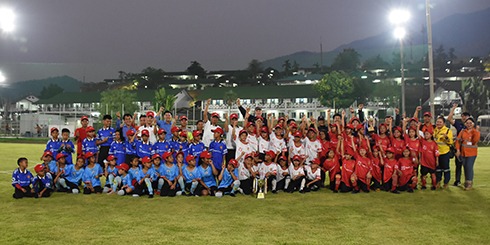 Three Village Children's Football Safety Championship matches
Safety and fun were the name of the game at the recent Three Village Children's Football Safety Championship matches were held at Phu Kham on 6 May 2023, with 68 local children enjoying the day.
The friendly competition came about after identifying a need to educate local children on the dangers of playing in operational areas adjacent to the Phu Kham Operations open pit. 
Hosting these matches for the local children was an opportunity to combine an important safety lesson with having fun with their friends. 
The children visited the mobile maintenance workshop and took part in driving simulation activities at the training centre, helping them understand how difficult it is for truck drivers to see anyone coming close to an operating vehicle.
Donations from Phu Bia Mining (PBM) employees went towards purchase sporting equipment, uniforms, and trophies for the matches, and approximately US$1,000 was raised within a month.
PBM employees volunteered their time to act as chaperones, referees, coaches, and to organise a BBQ for everyone involved.