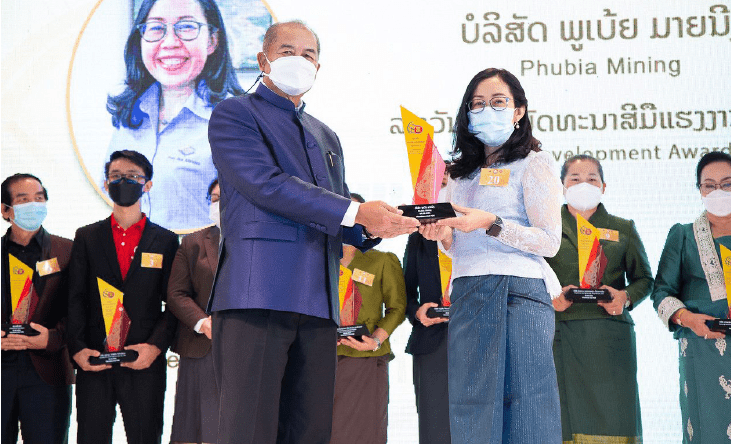 Phu Bia Mining wins at the ASEAN Business Awards Lao PDR
On 4 February, PanAust's Lao-registered company, Phu Bia Mining (PBM) received the 2021 Lao Special Award in Skill Development at the '2021 ASEAN Business Awards Lao PDR' gala event, held at the Crowne Plaza Hotel, Vientiane. The Award was presented by the Government of Laos' Deputy Prime Minister, His Excellency Prof. Dr Kikeo Khaykhamphithoune.
The ASEAN Business Awards Lao PDR acknowledge and recognise businesses that significantly contribute to the economic growth of the Lao business community. The Lao Special Award in Skill Development is given to Lao and Lao-based foreign companies that have raised the profile of Lao businesses regionally and globally and demonstrated how their operations contribute to human resource and skill development within the ASEAN Economic Community (AEC).
The Award adds to Phu Bia Mining's prestigious 2018 'Friend of ASEAN' and the 'Friend of Laos' Award that was presented to PanAust for its ongoing contribution to socio-economic development in Laos and the economic growth of the ASEAN region.
In Laos, PanAust's commitment to developing and training Lao-national employees to improve their skills and competencies required to complete their job and help grow their career is seen in its internal and external programs. Established in 2013 in partnership with the Lao-German Technical College, the Company's Apprenticeship Program is considered a beacon of this commitment. The program offers trades training in automotive electrical, heavy vehicle plant mechanical, metal fabrication and welding, fitting and machining, and electrical. At the end of 2018, 85 apprentices successfully obtained Australian Certificate III trade qualification and a Lao Ministry of Education and Sport's higher diploma and have now worked at the Company's mobile and fixed plant maintenance departments. In 2020, the program was reintroduced as an accelerated three-year program with 40 apprentices recruited from more than 3,000 applicants across Laos.
The Certification Assessment Program is another internal innovative training program for existing Phu Bia Mining employees. The program provided employees with development opportunities that were aligned with the Lao Ministry of Education and Sport's Technical and Vocational Education Training Program and is also delivered in partnership with Lao-German Technical College. In 2020, 174 eligible Lao trade employees received a trade certificate to a Lao higher diploma in trades.
The Company's in-house Supervisory Skills Training Program offers employees more than 80 hours of structured training and post-course assignments and exemplifies how Phu Bia Mining prepares its Lao-national employees for promotion to more senior roles. Annual internship arrangements for graduates from the National University of Laos also create an opportunity for hands-on experience and field visits to the Company's Operations.
At PanAust, the Company recognises it has a significant role to play in developing skilled nationals of our host countries that can continue to participate in, and help grow, the national economy.
The award highlights how PanAust continues to partner with the Government of Laos' Ministry of Education and Sports. It also honours the Company's trainers and instructors. These men and women work tirelessly to impart their knowledge and experience to our Lao-national employees to help build their skills, which in turn ensures its operational standards continue to be met.