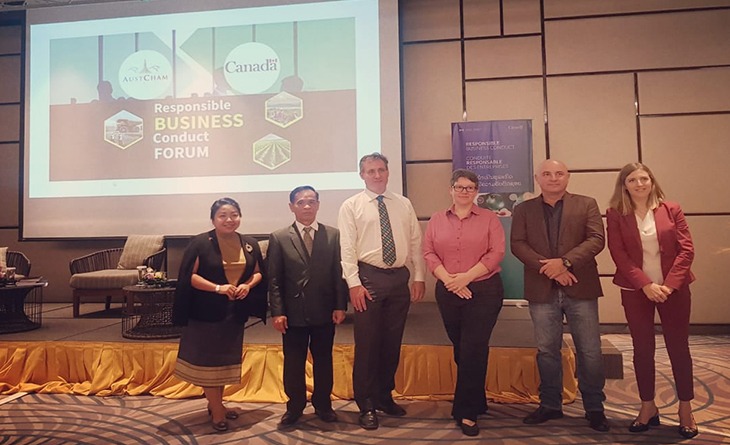 PanAust speaks about corporate social responsibility at Austcham Lao PDR Forum
PanAust's Lao-registered company Phu Bia Mining was invited to participate in an Austcham Lao PDR forum aimed at developing sustainable business initiatives and reporting standards in Laos.
Held on 18 March at the Crowne Plaza in Vientiane, Austcham Lao PDR's annual Responsible Business Conduct Forum brings together over 80 industry leaders across the agribusiness, forestry, mining and hospitality sectors in Laos.
General Manager Site Support, Steve Gimpel represented Phu Bia Mining and spoke about the Company's corporate social responsibility strategy and how it's implemented through the Company's community development and sustainable livelihood programs.
The Company's safety performance, environmental management practices, and what has been done to help the Government of Laos fight the COVID-19 pandemic were also discussed.
The event offered panel discussions, question and answer sessions and networking events for the participants. The forum also provided a platform to discuss how – through the development of best-practice business conduct – the private sector and the Government of Laos can work together to attract quality foreign investment opportunities that have the potential to support local communities.
Above: General Manager Site Support, Steve Gimpel (second from the right) and other presenters posed for the camera at Austcham Lao PDR's Responsible Business Conduct Forum at the Crowne Plaza in Vientiane, 18 March 2021.