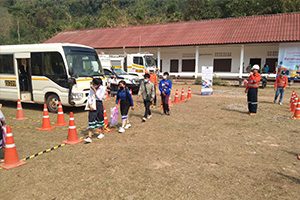 Phu Bia Mining supports school road safety day in Xaisomboun Province
Road safety is integral to Phu Bia Mining's (PBM) Logistics Haulage Operations, and we provide robust training to our drivers to help keep them, and other road users, safe on the road.
Every day our drivers are exposed to many near miss encounters along haulage routes, and a major concern for PBM is the safety and well-being of the children who share the same roads. In response, the team developed a School Road Safety Awareness program to deliver to students from Xaisomboun Province.
The one-day event was held on 20 March at Ban Namo Secondary School with 90 students (Year 1 to Year 7) and teachers attending. Representatives from the Xaisomboun Provincial Departments of Education and Sports, Public Works and Transport, Traffic Police, and village authorities also attended.
Starting with classroom presentations and activities focusing on identifying hazards and sharing the road with other vehicles, after lunch the group moved outside to watch demonstrations and take part in practical sessions. The practical sessions helped the students understand how to identify blind spots and hazards associated with large vehicles, and to practice riding bicycles safely along the road and cross the road safely.